Time to check in on how our Ukrainian friends are doing…
Last time we focused on strategy vs tactics…today we'll cover why the Russians continue to do stupid stuff while the Ukrainians take full advantage of technology.
How who follow this closely know that the Russians are relying almost entirely on massive artillery barrages to level towns, cities, and villages before trying to push troops in. That was working, and Ukrainian forces were hard-pressed to withstand the bombardment.
From the Kyiv Independent: "artillery dominance compensates for the weak performance of Russia's infantry." 
That was then.
It's quite different now, mostly because A) NATO countries have sent hundreds of artillery tubes (think cannons) and dozens of rocket systems to Ukraine and B) Russian logistics are awful.
A – These NATO weapons are much more accurate and have greater range than most of the stuff the Russians are using.
This allows the Ukrainians to shoot from further away, reducing the risk from Russian "counter-battery fire" (radar can identify where the outgoing shells and rockets are coming from so the enemy can shoot back). The new weapons systems are also much more mobile; our HIMARS rocket systems can shoot and be gone in 2 minutes. (thank you American taxpayers!)
Since mid-June, Ukrainian artillery has become increasingly lethal and extremely effective. This from the Kyiv Independent.
On June 15, a massive explosion occurred near the city of Khrustalniy (formerly Krasniy Luch) in occupied Luhansk Oblast. Explosions continued for days. According to satellite images, the blasts created a destruction zone spanning some 500 meters around the epicenter. The site was one of Russia's largest ammunition depots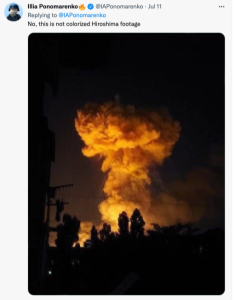 July 2, Ukraine's military published a video showing an enormous explosion at another large depot in the city of Popasna…Two days later, another devastating blast destroyed a large depot in the city of Snizhne. Three more depots were also hit in Donetsk.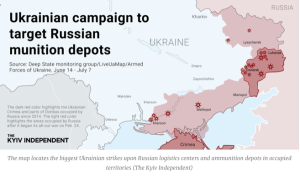 Which leads us to B – Russian logistics.
Faithful readers will know Russian logistics – in English the process of supplying troops with fuel, munitions, water, spare parts, and equipment – is awful. They don't use forklifts to move heavy stuff, but rely on manpower. They don't have pallets, but rely on manpower. They don't have enough trucks, so they rely on trains.
That's why the Ukrainians have been able to destroy thousands of tons of Russian artillery shells and other munitions; the Russians move those munitions to giant storage depots, where people offload the shells and trucks transport the shells to the artillery locations.
It's pretty easy to identify where trains are off-loading, and even easier to use a few artillery rounds to set off giant, days-long fireworks shows.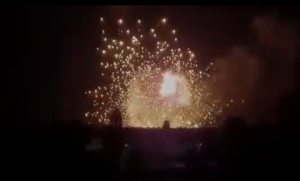 reportedly a large Russian ammo depot; actual video is here.
So, the Russians move the depots further from the front lines  – out of range of most artillery.
Enter HIMARS – which has a range of almost 50 miles with current rockets – can hit pretty much any target inside Ukraine.
From Igal Levin, a Ukraine-born Israeli defense expert.
"…if all those forwarded bases, depots, repair facilities, all of the logistics chains are destroyed — [Russians] will have to deal with the need to bring supplies from beyond the Ural Mountains, then be thinking how to store and distribute them, how to bring munitions to artillery."
The takeaway.
Russia has a far larger army, exponentially more artillery weapons, and enough artillery rounds in storage to fight for decades.
They also have a wildly corrupt economy, where kleptocrats stole billions of rubles intended to feed, clothe, and equip soldiers.
Ukraine has a much smaller military – and had a history of corruption, albeit one that pales in comparison to Russia's. Their troops – men and women – are way more motivated, fighting for their families and  land, and increasingly well-supplied.
They are also very well led by commanders who have years of experience fighting the Russians in Crimea and the Donbas and are taking full advantage of Russia's limitations and NATO largesse.
What do we need to do.
Keep the faith, people.  Russia's invasion of Ukraine is a major contributor to inflation, driving up fuel and food costs around the world. Yes this sucks, but our sacrifices are nothing compared to what Ukrainians are doing every minute of every day.
This too shall pass. When it does Putin and Russia will be far less dangerous, food and fuel prices will be much lower, and the world will be a way better place.
If you can, please help Ukrainians suffering from hunger, homelessness, injury and disease by donating to Care.