Fielded several calls and emails yesterday re the Moody's credit review of One Call…while always (ok, mostly) happy to talk, rather than answering the same questions multiple times I'll lay my thoughts out here.
These are in no particular order…
A colleague noted the possibility of a recession might affect One Call's credit worthiness as a recession would affect employment – thus reducing claims.
Well, not exactly..
I've written extensively on how economic ups and downs impact workers' comp; posts are here. Here's a quick summary..
At the early stage of a recession, employees who get hurt are less likely to file a workers' comp claim. While we don't know why that happens, research suggests it's because workers are concerned their bosses will eliminate their job while they are out on disability, and they'll have no job to return to.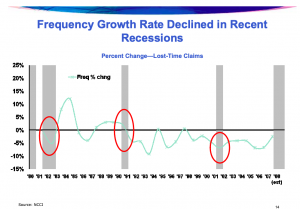 graph courtesy NCCI
As the recession deepens, frequency tends to bump up as employees realize their jobs are in real jeopardy.  Claims increase as a result, and it is tougher to find re-employment opportunities for workers ready to resume some level of work. This extends to part-time or other limited duty work that is essential to recovery and return to full duty. So, duration increases too.
In the final stages, as the economy recovers frequency appears to accelerate. Employers put older, less-safe equipment back on line, require workers to put in big overtime hours, hire temps who have minimal training on safety, and the pace of work picks up speed. The result – more injuries.
***If we are in a "recession" it's a pretty weird one; employment continues to grow, employers are hiring anyone and everyone who applies, and there are more job listings than potential workers to fill them…not exactly what one expects in a recession***
Another suggested the current owners can "just give One Call more money" thereby alleviating cash flow worries.
That's a possibility – but I'd suggest a pretty unlikely one.
The current owners took over One Call when it was on the brink of bankruptcy; if OC had gone down that route it would have made it less likely OC's bondholders/lenders would recover all their funds. In my admittedly limited experience, credit investors are much less likely to send more cash to assets that are struggling than private equity investors. And PE firms aren't exactly enthusiastic about bailouts.
One insightful question focused on whether OC has debt with variable interest rates; those of us with fixed rate mortgages are protected from rate increases while our friends and neighbors with variable rate mortgages are seeing pretty significant increases in their monthly payments.
nerd alert…
OC has several different debt vehicles/types/forms
The First Lien (think of this as your house mortgage) of $700M is Libor+550 Floor <.75 which means that when Libor moves so does their interest payments. Libor moves when the Fed moves so, away you go.
For example in the beginning of the year OC would have been paying the Floor and for September about 2.52%. With the recent Fed increase, that will be going up to over 3%.
Note that One Call may have bought financial instruments that protected it (either in whole or in part) from interest rate changes – these are known as hedges.
[if memory serves One Call also has to pay down principle every quarter to the tune of around $2.1 million; that's pretty small potatoes for a $1 billion+ enterprise]
Finally word is One Call had recently been awarded new business from a large payer, and this would certainly benefit the company going forward.
This is definitely good news for OC and congratulations are due to the C-suite and sales team (as well as the behind the scene folks involved).
That said, work comp payers are notoriously risk-averse; its too early to tell if Moody's announcement will give the new customer pause.
What does this mean for you?
This stuff is complicated and one has to be careful making assumptions (I continue to learn to question mine!)
note – if I got anything wrong or you have another view please comment below.