House Republicans are planning to impose massive cuts to Medicare, raise Medicare's eligibility age, and withhold payments to early retirees and retirees earning more than a certain limit.
News sources indicate the GOP will use the upcoming debt limit to try and force Medicare cuts, a reprise of earlier efforts supported by 175 House Republicans to slash Medicare spending. The effort is also gaining traction among Senate Republicans, with Senator Lindsey Graham planning to use the Republicans' leverage in Congress to cut Social Security and Medicare.
Sen. Rick Scott's 11 point plan goes a lot further; it would end Social Security and Medicare if Congress doesn't take specific action to renew those programs every few years (see Scott responding to Fox News question at 1:09 of the video here.)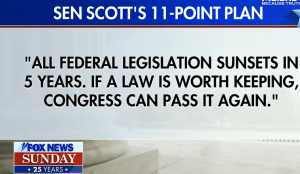 You may well recall that Scott was sued for Medicare fraud back when he ran Columbia/HCA. Columbia/HCA was ordered to pay the Feds $1.7 billion in fines and penalties.
What does this mean for you?
If you and/or your parents are on Medicare, this means a lot.