Those who continue to deny the results of the 2020 elections are anti-American; they seek to reject any result they don't like. That is incredibly dangerous and a threat to our Republic.
Across more than 60 cases in 12 states, final rulings in every court case – including every one overseen by Trump-appointed judges – rejected allegations of fraud and confirmed the results of the election. 
If you care about democracy, you need to know which candidates are election deniers – or more accurately anti-American.
here's just a few…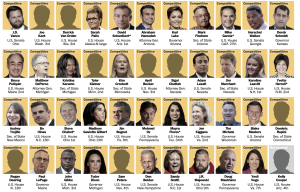 To find election deniers running for office in your state; just click on this link, then your state to identify those who refuse to accept the will of the people.
Need more info?
Trump's own Presidential Advisory Commission on Election Integrity disbanded having discovered nothing.
The Heritage Foundation Election Fraud Database has compiled every instance of any kind of voter fraud it could find since 1982. It contains 1,296 incidents, a minuscule percentage of the votes cast.
A study of results in three states where all voters are mailed actual ballots, a practice some allege to be rife with fraud, found just 372 possible cases of illegal voting of 14.6 million cast in the 2016 and 2018 general elections — 0.0025 percent.