Leave it to some misguided folks in the California legislature to come up with solutions to non-problems, solutions that will do more harm than good.
That's just what AB1127 does…shortening the time period for employers to determine the compensability of claims, a change which will lead to – among other problems – more initial denials and less time for injured workers to receive medical care while their employer researches the claim. Further, AB1127 appears to allow for penalties of up to $50,000 for claims that are "unreasonably rejected" by the employer – but the bill a) doesn't define what constitutes an "unreasonable rejection" and b) doesn't exclude claims that are already closed.
That last is pretty bizarre – then again the entire thing is a mishmash of unfounded assumptions and poorly conceived "solutions" that will add litigation expense while doing little to improve the lives of injured workers.
One of the major problems is the timeframe to investigate some claims is shortened – but much of what happens during that investigation is beyond the control of the employer/adjuster.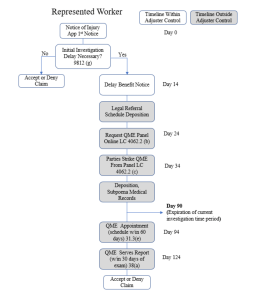 As a result, payers facing down a deadline may have to issue a provisional denial if they can't get evaluations scheduled, obtain medical records or med-legal reports or those records and reports are incomplete.
There's a lot to unpack here – the fine folks at CWCI have provided a detailed analysis of AB1127 here – free to members and at nominal cost for others.
What does this mean for you?
How this benefits injured workers is a mystery indeed, how it benefits applicant attorneys is crystal clear.