CMS just reported US healthcare spending topped $4.3 trillion in 2021…almost $13,000 per person.
Meanwhile work comp medical spend for 2021 was likely around $32.5 billion…or 0.74% of US healthcare spend.
Government accounts for about 2/3 of total spend, among private employers Amazon has more health plan participants than any other company…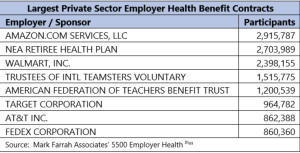 chart courtesy Mark Farrah and Associates
Old friends and colleagues Adam Fowler and Kevin Tribout's latest edition of the Policy Guys podcast is up here. Honored to be part of the pod, especially with such distinguished hosts!
Off to Baton Rouge to get together with my friends at LWCC – looking forward to great food and better people.