Inflation. Employment. Manufacturing jobs. Wages.
All are in waaaaay better shape than they were a couple years ago.
What's downright weird is how gloomy many are…in the face of pretty good news on many fronts. So let's start the weekend off with what's REALLY going on…
Inflation dropped to 3% – a third of what it was in June of 2022…when it was 9% –  "we've made a lot of progress [reducing inflation] without much pain. And I think that's what's critical so far." says Stephen Juneau, an economist at Bank of America Merrill Lynch.
Employment  – there are one and a half jobs open for each unemployed worker which a) means there is NO recession and b) employers are in better shape than they were 18 months ago when there were more than 2 jobs per unemployed worker.
US manufacturing is roaring back...construction of new factories is at an all-time high and companies are adding over 400,000 new manufacturing jobs this year.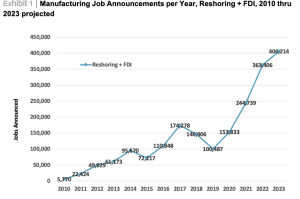 Wages are also going up – adjusted for inflation annual median household income was up over $3,000 over the last three years.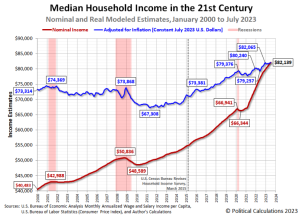 What does this mean for you?
Things are going pretty darn well.
As for the implications for work comp…this from a post in August.
Hundreds of billions of dollars is flowing into infrastructure, investment that has already created ninety thousand jobs in:
construction,
transportation improvements,
highway, bridge and road maintenance and replacement, and
heavy industry.
And many more jobs are on the way. (check out where this is happening here).
These are very well-paid, high-frequency and high-severity jobs.
This means premiums will increase as will claims and claims costs. And this will continue for years.