You may not have heard of the Build America, Buy America Act…here's why it is good news indeed for US manufacturing and construction – and employment.
BABA lays out requirements for US content in federally funded infrastructure projects, requirements that specify how much Made in the USA content is needed to qualify for Federal funding.  
BABA impacts at a minimum,
the structures, facilities, and equipment for roads, highways, and bridges;
public transportation;
dams, ports, harbors, and other maritime facilities;
intercity passenger and freight railroads;
freight and intermodal facilities; airports;
water systems, including drinking water and wastewater systems;
electrical transmission facilities and systems;
utilities;
broadband infrastructure; and buildings and real property; and
structures, facilities, and equipment that generate, transport, and distribute energy including EV charging.
All iron and steel must be produced in the US…all manufactured products must have at least 55% minimum Made in the USA content, all construction materials must be "produced in the US" AND manufacturing processes must take place within the US.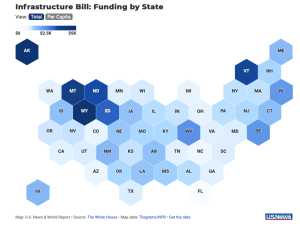 per capita funding
Building trades welcomed the new guidance, with Nevada, West Virginia, Mississippi,  Louisiana, Wyoming and Tennessee among the states that will benefit  from new hiring and vastly improved: 
roads,
bridges, 
wildfire protection, 
electricity transmission, and
broadband.
Check out your state's funding here.
What does this mean for you?
Better roads, schools, broadband; more good jobs; and more workers' comp premiums and claims.