Workers comp in a dozen years MAY look a lot different that it does today.
That's the take from Rick Victor PhD, former CEO of WCRI, who discussed a number of potential factors that might actually increase work comp claim counts a LOT at the WCRI 2018 conference.
One was case-shifting, an oft-cited but generally poorly-researched factor that most of us think happens all the time. I'm not so sure.
According to Dr Victor, factors that might increase case-shifting include:
weakening of the ACA = 20 million more uninsured
higher proportion of the population is on high deductible plans – and they can't afford the deductible.
providers looking for higher reimbursement
Another is the shortage of labor, driven by an aging workforce and current tight labor market. Factor in the possibility that the workers left to be hired are not as strong, motivated, employable, and diligent as the ones already working, and therefore are more likely to file work comp claims, and Dr Victor posited injuries may increase.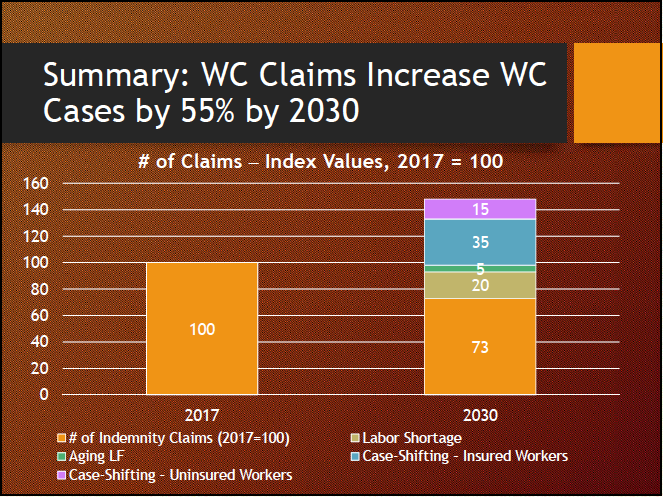 Interesting thought experiment, especially given the current Administration's remarkable ability to not understand that our economy:
benefits from immigrants,
desperately needs them today, and
even more desperately needs them in coming years.
The central premise, that labor shortages and a robust economy will dramatically increase claims, perhaps as much as 50%, just doesn't make sense.
The rise in robotics, replacement of human intelligence with Artificial Intelligence, autonomous vehicles and trade policy all are very powerful arguments that claims will actually decrease – at a rapid rate.
What does this mean for you?
Unless technology stops evolving, claims will continue to drop.