Middle class voters can't afford healthcare.
Total health insurance cost for the average family with employer-sponsored coverage is over $22,000 annually.
Even families that have coverage are being crushed by costs not covered by insurance.
lawsuits keep the "Debt and Collections" courtroom in Poplar Bluff busy. (Michael S. Williamson/The Washington Post)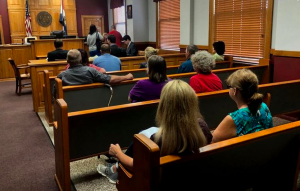 Hospitals and health systems are going out of business, leaving towns and rural areas with reduced access healthcare.
Health systems and hospitals have a Hobbesian choice – force families into bankruptcy or go bankrupt themselves.
Tennessee and Texas lead the nation in hospital closures, with one-fifth of the Lone Star State's rural hospitals already closed or close to it. Just north, a grassroots movement in Oklahoma driven by closure of a half-dozen rural hospitals, is gaining traction.
While Becker's reports all but one of the hospitals going belly up are in states that didn't expand Medicaid.   While there's no question the problem is much worse in non-expansion states, facilities' fiscal problems aren't all solvable by Medicaid. Hospitals from Philadelphia to Chicago are facing bankruptcy, leaving behind massive unpaid bills and huge gaps in the provider landscape.
Improved access to care has big economic benefits.
Growing evidence indicates Medicaid expansion has been a big positive for expansion states:
Medicaid expansion was associated with improved hospital financial performance and significant reductions in the probability of hospital closure, especially in rural areas and areas with higher pre-ACA uninsured rates.
A study in Louisiana found that the injection of federal expansion funds created and supported 19,195 jobs (while creating and supporting personal earnings of $1.12 billion) in sectors throughout the economy and across the state as of SFY 2017. A study in Colorado found that the state supported 31,074 additional jobs due to Medicaid expansion as of FY 2015-2016
Another Louisiana study found that as a result of the federal infusion of Medicaid expansion dollars into the state's economy, Louisiana derived an additional $103.2 million in overall state tax receipts (which exceeded the state dollars budgeted for the Medicaid expansion program by close to $50 million) and local governments derived an additional $74.6 million in local tax receipts. A study in Montana found positive financial effects for businesses due to infusion of federal dollars to fund health coverage for workers
The net is this – People want their kids to be covered, to be protected from medical cost bankruptcy, to have access to care.
Politicians who offer solutions to these problems are finding receptive audiences, even in red states and states where Medicaid expansion was turned down. Louisiana, Kansas and Maine are three states where healthcare was a significant factor in gubernatorial elections – all have expanded, or working to expand Medicaid.
Voters will drive healthcare reform, and politicians will follow. More coverage = a healthier economy.
What does this mean for you?
It's going to happen.