With President Trump's nominee for the Supreme Court all but confirmed, there are huge implications for healthcare. If the Court rules the ACA/Obamacare is unconstitutional, "a host of provisions may be eliminated" including:
protections for people with pre-existing conditions,
subsidies to make individual health insurance more affordable,
expanded eligibility for Medicaid,
coverage of young adults up to age 26 under their parents' insurance policies,
coverage of preventive care with no patient cost-sharing, and
lower drug costs for seniors using Medicare's drug benefit.
Today, a brief summary of the court case and analysis of two major implications.
A week after the election the Court will hear the Trump Administration and Republican State Attorneys General argue that the entire ACA/Obamacare must be struck down. Health policy nerds (guilty!) will recall that lower courts ruled that Congress' elimination of the individual mandate killed the entire ACA; this is the Trump/Republican AGs' argument.
Democratic Attorneys General have argued that the mandate can and should be separated from the rest of the ACA.
We don't know how the Court will rule. We do know that after Barrett's confirmation, the Supreme Court will have a 6-3 supermajority of conservative justices. According to HealthAffairs, writing about the lower court's ruling, Judge Barrett "does not clearly state her own view but signals support for the dissent's view (full invalidation of the ACA)." [emphasis added]
Seniors and Hospitals will be dramatically impacted if the Supreme Court overturns the ACA/Obamacare (we'll address other implications tomorrow).
Seniors
Ending the Medicaid expansion will eliminate benefits for seniors and others in Medicaid expansion states with incomes just above the poverty line.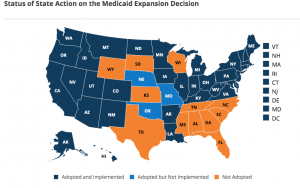 The ACA closed the "doughnut hole" in the Medicare drug plan, saving a million seniors about $3,200 each. If it is overturned, seniors with high drug costs to treat chronic diseases such as MS, hepatitis C, some cancers, and some autoimmune diseases will see much higher costs.
Hospitals
Many hospitals are already in financial distress, especially in rural areas and states that did not expand Medicaid.
Tennessee and Texas lead the nation in hospital closures, with one-fifth of the Lone Star State's rural hospitals already closed or close to it. Just north, a grassroots movement in Oklahoma driven by closure of a half-dozen rural hospitals, is gaining traction.
While Becker's reports all but one of the hospitals going belly up are in states that didn't expand Medicaid. 
If the Court overturns the ACA/Obamacare, many more rural and smaller hospitals will shut down, leaving healthcare deserts behind.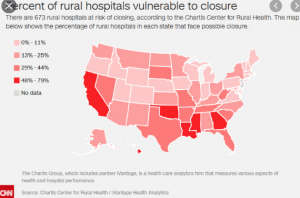 (Work comp is also affected – albeit indirectly)
What does this mean for you?
If you are a senior concerned about the cost of drugs, and/or live in a rural area, the Court's decision will have real consequences.