Good to be back in the habit of regular posting…lots going on deserving of your attention.
Drugs
From myMatrixx, a very useful post from Phil Walls, everyone's favorite pharmacist. Phil highlights three drugs in the pipeline that may well find a place in work comp.
Nalmefene was developed as the naloxone for fentanyl. While naloxone has saved countless people on the verge of dying from opioid overdose, a single dose isn't strong enough to save someone on fentanyl. Read Phil's post for details.
Two other meds – Molnupiravir and Ofev may help patients battling COVID. The former is an anti-viral, easily administered and offering the potential to reduce the length of infection.  Ofev is more narrowly focused on combating a very serious lung disorder associated with COVID.
Opioids
As if Florida, Mississippi, and other states needed yet another reason to expand Medicaid...individuals with Opioid Use Disorder referred by criminal justice agencies were more likely to receive  medications for OUD in states that expanded Medicaid compared with those in states that did not.
Considering overdose deaths dramatically increased after the pandemic started, legislators in non-expansion states need to get off their collective butts and do the right thing. Stop with the bullshit arguments and do something that actually helps people.
And the Biden Administration should do the same – fast track authorization for medical providers to prescribe buprenorphine. We've been waiting over three months, Mr President…
Hospital profits
Hospital and facility owner HCA reported profits more than doubled in the first quarter of 2021 over 2020. The really scary part is
"Same facility revenue per equivalent admission increased 16.6 percent in the first quarter of 2021, compared to the first quarter of 2020, due to increases in acuity of patients treated and favorable payer mix."
In English – employers and taxpayers' facility costs shot up. Here's looking at you, workers' comp…
Workers comp
Despite the rampant profiteering off workers' comp by HCA and others, workers' comp remains a very profitable line of business. That's mostly because rates are still too high, frequency continues to decline, and medical trend remains flat.
National Underwriter reported WC was the fourth most profitable P&C line in 2019, at with a "relative net worth" of 12.2%. I'm not entirely sure what "relative net worth" is…perhaps the best way to compare margins across not-for-profit, mutual, and stock companies?
Anyone?
Finally – be Skeptical!
Did 4% of Americans gargle with bleach last year?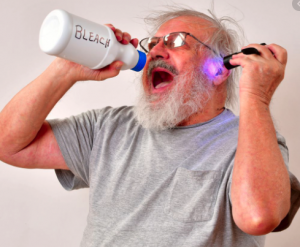 You may have read the news reports on a "study" that found a bunch of us were gargling with bleach. Bunch of morons…typical (insert demographic group here),
But, the answer is likely no.  In fact, the "study" had fatal flaws, flaws which came to the surface when a well-designed study followed up.
Takeaway – beware of clickbait, ESPECIALLY when it supports your own opinions and biases. Here's looking…in the mirror.
Lastly, a request.
Smile at someone you don't know today. Things are getting better by the day, and you can spread the joy.