Doing my best to avoid work on Fridays…so moving this occasional catch-up post to Thursdays…
COVID
Promising news on the effectiveness of a drug to help infected patients fight off the virus was reported by the Economist. The good news – Regen-Cov:
saved the lives of many of those unable to make their own antibodies in response to SARS-CoV-2. Such "seronegative" individuals constituted about a third of the 9,785 hospital patients in the study…compared to a control group given standard treatment … 20% more patients survived
The bad news – it's stupid expensive, and supply chain issues are hampering production.
A study conducted by the National Institutes of Health indicates COVID may have been in circulation earlier than originally thought. Blood samples from Illinois, MassachusettsMississippi, Pennsylvania and Wisconsin indicate the virus was in those states in December 2019. An earlier CDC study found similar evidence in California, Oregon, and Washington.
These findings indicate a better and more thorough process to identify disease outbreaks may well be warranted.
Comp drugs
WCRI is hosting a timely webinar on Interstate Variations and Trends in WC Drug Payments on June 24. Register here. Gotta say I'm darn impressed by the researchers' ability to obtain, analyze, and report on payments as recent as Q2 2020. This makes WCRI's information much more actionable for regulators, clinicians, and payers alike.
Dr. Vennela Thumula and Dongchun Wang of WCRI will be guiding us thru their findings; the webinar is free.
I am finishing up the latest Annual Survey of PBM in WC which will have 2020 and 2019 data; last chance to participate and receive a detailed, respondent-only version of the report. If you want to participate let us know in the comment section below (there's no cost to participants).
Couple interesting – and very preliminary – takeaways…
growing interest in transparency, along with an increased awareness that this isn't a simple issue.
spend continues to decrease, with respondents attributing some of the decrease to COVID.
opioid spend continues to drop, but most respondents are still struggling to help chronic pain patients/long-time users of opioids reduce usage.
there's a growing awareness that the PBM pricing model needs to change. With spend declining and a push for transparency, knowledgeable payers understand that paying PBMs less year after year is not sustainable.
Previous public versions of the Survey Report are available here for download at no cost.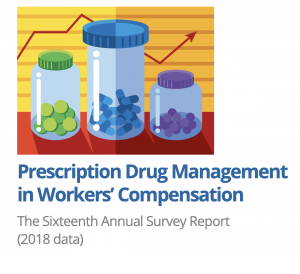 Hospital pricing
Hospitals are supposed to be publishing their prices – at least Federal regulations require them to. But those smart, sneaky administrators are figuring out all kinds of ways to avoid telling you how much it will cost for that MRI, drug, band-aid, or lung transplant.
From JAMA:
hospitals must publish discounted cash prices (applicable to uninsured patients) and payer-specific negotiated rates. Second, hospitals must display price data, including expected out-of-pocket costs, for "shoppable services" that can be scheduled in advance (eg, office visits) in a consumer-friendly manner that facilitates service-specific comparisons across hospitals (eg, price estimator tools). [emphasis added]
As of early March, only 17 of 100 randomly selected hospitals were complying with the regulations. The penalty for non-compliance is…wait for it…
$300 a day.
Perhaps if the Feds charged hospitals the same way hospitals they charge us, we'd have a bit more compliance. 
How about…the Feds tell the hospitals after the fact what the cost will be, based on a "compliance chargemaster" that takes into account the hospital's margin, quality scores, number of collection suits it has filed, and medical error rate.
Thanks to the estimable David Deitz MD PhD for the head's up.
Wellness works
Finally, HealthAffairs reports wellness programs don't really improve population health, reduce healthcare spending, or improve employment outcomes. 
Almost 40 years ago, I was halfway through a Master's of Science in Health/Fitness Management when it became obvious this was NOT going to be a lucrative career…quite the opposite. Not saying I was prescient, just that employers sensed this was a nice-to-have and not a got-to-have, and that lack of importance showed in salaries.
Dodged that bullet.
And really finally, congratulations to my favorite baseball team – the White Sox have the best record in baseball after taking 2 of 3 from Tampa Bay. I
know my friends in the Bay area will be heckling me when the Rays surge again…hey, you gotta take advantage of good news when it comes!