As the son of two parents in the CIA who grew up on military bases all over the world, I've had a special fascination with the minutiae…the (seemingly) minor and (seemingly) random things that cascade into defeat or victory.
After hours in the TwitterSphere, here's my totally amateur take on why the Russians are losing despite an overwhelming advantage in military technology and hardware and personnel and the West's absolutely correct decision to NOT intervene militarily.
stick with me here…the journey is worth it.
You've seen lots of photos and video of that gigantic convoy sitting on the road north of Kyiv…one that will ensure the total destruction of the capital and pretty much everyone in it.
Except that column hasn't moved in three days. Two reasons…tires and rasputitsa.
Tires.
If you don't keep tires inflated, move vehicles around, and minimize exposure to sunlight, they rot.
If tires fail, what was a HUGE asset – mobility, and a logistics train (supplies of fuel, food, water, ammunition, medical supplies, spare parts) – becomes a HUGE liability…modern armies consume gigantic quantities of everything, and when that runs out, they stop moving, shooting, and surviving.
A military tire expert(!) posted this…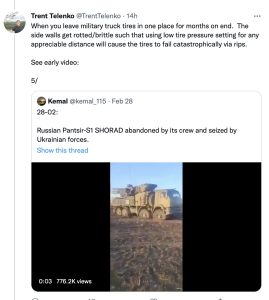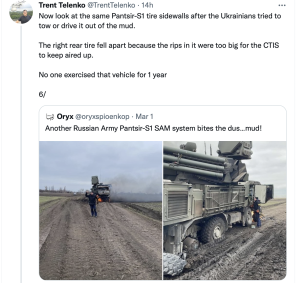 If that column had been able to move quickly, Kyiv and Ukraine would be flying the Russian flag…sure the Ukrainians have done everything humanly possible to slow/stop it, but AK-47s and molotov cocktails are no match for masses of T-90s.
Okay, but it's just tires, you say?
Rasputitsa
Rasputitsa is the Russian word for mud, which in the steppe country is bottomless. The incredibly fertile and deep soils of eastern Ukraines turn to mud when the spring thaw hits.  Reports indicate Putin bowed to China's demand that Russia not invade Ukraine until after the Olympics…after the weather had turned just a bit warmer.
The Ukrainian defense, coupled with lousy Russian vehicle maintenance, likely caused breakdowns at the head of the column. So, the Russians had to get off the road to make any progress.
But…
Tires that work really well on roads have to be de-pressurized to get through mud, and when you lower the pressure, sidewalls flex, crack, and fail, and gazillion-rouble mobile air-defense vehicles, troop carriers, and fuel trucks get stuck.
Which allows very mobile, incredibly brave, and highly motivated Ukrainians to either fix and then use them to fight Russians or destroy them.
So, the rest of the convoy is stuck on the roads, where it runs out of fuel, food, water, and esprit de corps.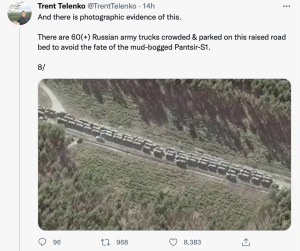 Well…Russia's still got a huge and deadly air force…right?
Good question.
If the Russians didn't take care of tires, what else did they ignore? Modern military equipment is incredibly maintenance-intensive. US fighter jets need more than 30 hours of maintenance per flight hour. 
The Russian air force has 4 times more planes than the Ukrainians, yet hasn't achieved air dominance over Ukraine – a situation that has puzzled every "expert" pundit.
While I haven't seen any current insights into Russian air force maintenance practices, there have been a LOT of problems of late, problems due to crappy maintenance, inexperienced crews, and a lack of training.
Net is, there's a lot more to fighting and winning than lots of troops and fancy equipment.
Back story
There's a LOT more to this, as in why the Russian military is so poorly maintained, trained and led (hint – Putin's buddies are oligarchs that get huge contracts to provide tires to the military, contracts they fill by using cheap, crappy Chinese knock-offs so they can spend the rest on superyachts and apartments in London).
What does this mean?
Support Ukraine. 
Please consider a contribution to Care. Care is a very reputable and highly effective NGO with a rich history of successfully mitigating disasters and helping people.
Screenshot your contribution and put it in comments. I'll post it – and my ever-lasting thanks.