Gas prices are up, there are concerns about inflation, and some shortages continue – that's the bad news.
The good news is the hiring boom that's been going on for over a year shows no signs of abating, AND wage increases seem to have moderated a bit – which may be good news on the inflation front.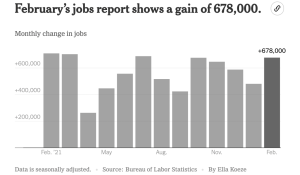 As a result, unemployment is down to 3.8% – a great number by any standard.
From the New York Times:
Job openings are near a record high. Layoffs are at a new low. And hiring has remained strong in the ebb and flow of successive waves of the pandemic — employers have added at least 400,000 jobs every month since May, the longest such streak on record. [emphasis added]
The economy is moving in the right direction; things are looking solid for a robust 2022 indeed.
What does this mean for you?
More workers = more health insurance and workers' comp premium dollars.