Again my fascination with the minutiae that brings defeat or victory causes me to diverge from managed care stuff to dive into what's happening in Ukraine, why, and guess what the end result will be.
(Here's my first post which dives into the why crappy vehicle maintenance and mud season are really helping Ukraine)
The damage Russia is doing to Ukraine and the Ukrainian people is immeasurable.  Yet it pales in comparison to what it is doing to itself, its future, its world standing, its economy . And it will get worse, because
Ukraine is still winning (or perhaps more accurately Russia is not, which is the same as Russia losing), and
The western world is unified as it has never been.
First, the no-fly zone. Unfortunately this is a no-go because:
Russian planes are not doing nearly as much damage as artillery and rockets – which CANNOT be stopped by a no-fly zone.
Implementing a no-fly zone would require NATO countries' airplanes to:

bomb Russian ground radar and anti-aircraft assets – some of which are INSIDE RUSSIA
shoot down Russian air assets (planes and helicopters)
shoot ordnance (missiles, rockets, shells) that might cross the border into Russia)

Direct confrontation of Russian assets by NATO forces would support Putin's claims that it's Russia vs NATO and the west, thereby:

solidifying his position in Russia and
making the use of nuclear/biological/chemical more defensible  – at least in Putin's mind and others in Russia.
Also, we (NATO, that is) are about to send some very capable ground-to-air missile systems to Ukraine, systems which Ukrainian soldiers are likely familiar with and will need little additional training on. Some of these systems have the ability to shoot down cruise missiles as well as planes and helicopters.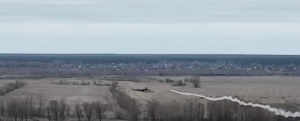 the contrail is from a Ukrainian rocket about to hit a Russian attack helicopter.

and here's the helicopter as it hits the ground.
Second, "we should be doing more to help the Ukrainians" Well, like what?
Anti-tank rockets? Drones? Medical supplies? Anti-aircraft missiles?
check, check, check and check.
I'm also guessing our intelligence services are helping a LOT by sending data on Russian military movements to Ukrainian forces, data that those forces use to target precision munitions, identify potential threats, and better understand the tactical situation. Of course you'll never hear about this.
[note more than two dozen (!) Republican Senators voted against legislation providing $13.6 billion in additional aid to Ukraine, then blasted the Biden Administration for "not doing more" to  help the Ukrainians.]
Okay, here's what I've learned from untold hours of reading twitter feeds from some very well-informed and knowledgeable posters…
Logistics
Russia is having logistical problems – for we civilians, that means their supply chain is in very bad shape. If we don't get our drill bits, Etsy order, or several pair of shoes to try on, that's a tragedy.
If an invading army runs out of artillery shells, food, medicine, rockets, medical supplies, and most importantly – fuel – it's much worse. Hard to fight a war if your:
soldiers are hungry,
you can't patch up your wounded, and
your tanks, trucks, command vehicles, and mobile artillery run out of fuel.
Which appears to be happening.
Couple issues here –
the Russians can't get the stuff they have on hand to the troops that need it because those Ukrainians who were supposed to welcome them with open arms didn't get the memo. And,
Putin and his generals evidently didn't stock up on everything a modern army needs because they assumed (1.) above was reality.
There are reports that Putin has been asking China for food, artillery shells, medical kits, and probably everything else. (That's why President Biden told Premier Xi Jinyang – in no uncertain words – to NOT send military goods to Russia)
Okay, back to 1…
Fuel.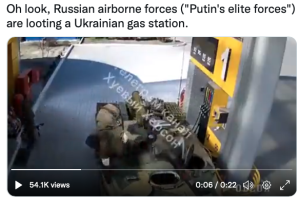 Its mud season, and melt season, which means many roads are impassable which forces vehicles to go cross country – which means crossing streams/rivers. Armies have specialty vehicles intended to do this, but…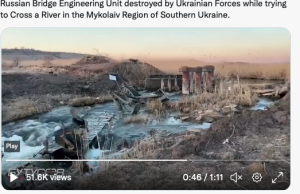 As we discussed a while back, vehicles require roads, which are narrow, can be mined, and offer lots of opportunities for the Ukrainians armed with man-portable rockets to blow them up.
The classic tactic is to destroy the front and rear vehicles, trapping the rest in the middle. Drivers then have a Hobbesian choice-  stay on the road and risk getting blown up by rockets or head off road where they risk getting blown up AND/OR stuck in the mud.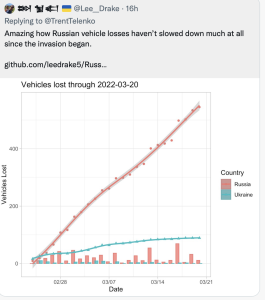 Which seems to be happening.
2. Those fancy hypersonic rockets Putin is using? he doesn't have that many. And they cost about $100 million EACH. Using them now – against a nation that should have surrendered weeks ago, may be an indicator of desperation.
He's actually been forced to use anti-ship rockets against land-based targets. Which implies he's running out of regular rockets. And artillery shells. and lots of other stuff.
Here's the worst part – Russian casualties – killed, wounded, missing, taken prisoner – are staggeringly high.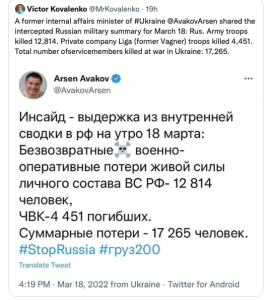 Typically, for every killed-in-action (KIA) there are three wounded (WIA). If this holds here, we're talking over 50,000 additional casualties.
This is stunning.
By way of comparison, in 9 years in Afghanistan – a brutal war indeed – the Soviets lost 9500 KIA.
So in less than a month the Russians may have almost twice as many KIA than in 9 years in Afghanistan.
"Worst" because many of those soldiers were conscripts with little education, poorly fed and trained, unaware of where they were going and why, but told they would be welcomed with open arms.
Where do we go from here?
Will Putin use WMD (weapons of mass destruction)?
I don't know – and no one else does either. But I'd say it is likely he does something horrific, because he's Putin and will likely be shot if Russia fails in Ukraine.
Chemical is the likeliest as he will try to blame it on Ukrainians blowing up an ammonia or chlorine storage facility.
Due to massive corruption in Russia it is highly unlikely Russian troops have protective gear. That implies Putin will use chemicals on civilians and do so far from his own troops. Then again, he does not care if his guys get slaughtered and could blame that on Ukraine.
Stalemate
Russia is making some progress in the south, and appears to be stalled in the north and west – if not losing ground.
It is nearing bankruptcy, has lost massive amounts of equipment, and cannot get critical components to replace that equipment and has suffered more than 50,000 casualties.
Ukraine's morale is high, its civil and professional forces are performing incredibly well, supplies are coming and its people are unified yet it has a much smaller air force, is fighting an enemy that does not care who or what it kills.
Where does this end up?
No one knows.
What does this mean?
Support Ukraine. 
Please consider a contribution to Care. Care is a very reputable and highly effective NGO with a rich history of successfully mitigating disasters and helping people. They are doing great work in Ukraine.
Screenshot your contribution and put it in comments. I'll post it – and my ever-lasting thanks.