Once again children have been killed.
Yesterday's slaughter of little children cut me to the heart, coming the day after I spent hours watching our granddaughter. Hours of delight, wonder, love, joy and promise.  Sitting together in a swing as she munched on goldfish, picking dandelions, working on puzzles and learning more colors, doing nose kisses and picking out her outfit for the day (rain boots, shorts, and a favorite shirt, with a pretty awful ponytail (as it always is when grandpa does it)).
I cannot imagine the heartbreak suffered by families in Uvalde Texas, nor can I imagine how this reverberated among parents of kids killed in Sandy Hook Connecticut a decade ago, ripping open wounds painful beyond measure. That's awful indeed – what's worse – if that's possible – is there have been dozens of mass shootings this year alone.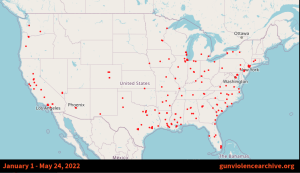 Look at your kids, your schoolyards, your sports fields, your graduation ceremonies and school plays and imagine the impact of a Uvalde/Sandy Hook/Buffalo/Laguna Woods/Milwaukee/Brooklyn/Sacramento.
If we do not do something about gun violence, some of you, dear readers, may come to understand all too well the heartbreak and utter devastation suffered by families victimized by gun violence.
Make no mistake, this butchery would not happen without grandstanding by vote-seeking pols, lax background checks, wildly inadequate mental health care, incredibly permissive concealed carry laws in some states and easy access to guns, many of which serve no purpose other than killing people.
What does this mean for us?
We are failing to protect children, loved ones, parents and family. This is a national disgrace. 
Note – I am a gun owner and hunter. Family members are first responders, former law enforcement and national security.