We'll get to what we missed in a second; first this – The slaughter in Buffalo and Uvalde had me focused elsewhere, as it did for many.
That focus must not shift as we celebrate Memorial Day with friends and family; we cannot just move on, as tempting as that is. Rather I'd encourage you to commit to doing something, to be a difference maker.
Please don't just move on. Please.
Get the facts about gun violence here.
Support the Sandy Hook parents' efforts here.
Support Moms Demand Action here.
WCRI published two excellent studies this week…thanks to Andrew Kenneally for sharing the news.
The craziness of workers' comp extends to the prices you pay doctors and therapists for care…how crazy you say?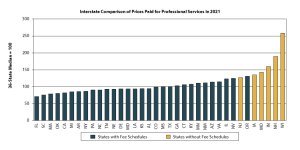 Bonkers.
Docs in Florida are getting screwed (but FL hospitals are rolling in dough), while their counterparts in Wisconsin are making bank. Like so many things in comp, this makes zero sense.
Download Rebecca (Rui) Yang PhD and Olesya Fomenko PhD's insightful study – for free – here.
There's far too little information on the outcomes of chiropractic care. WCRI just published a multi-pronged analysis of chiropractic care's impact on low back pain, with a comparison of costs and disability duration for patients treated by chiros vs other care givers.
An intro video is here.
The study, authored by Kathryn Mueller, Dongchun Wang, Randall Lea, M.D., and Donald R. Murphy is available for purchase here.
Have a safe weekend, and remember – Democracy depends on your involvement.