Over half a million jobs were filled in July, far exceeding expectations.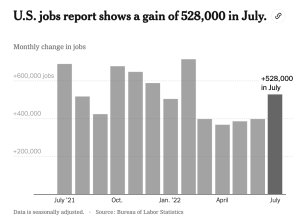 We have now recovered every job lost during the pandemic – a darn impressive record given inflation, higher interest rates – the unemployment rate now matches its 50 year low. 
Things are looking pretty good, although people remain  concerned about inflation. The good news there is fuel prices have dropped appreciably over the last few weeks, with gas prices falling 50 days in a row.
The result is a very mixed economic picture, although things seem to be trending in a positive direction on the inflation front.
What does this mean for you?
More jobs -> more payroll.