Two seemingly-unrelated new items hit my news feed – Kaiser Permanente lost over a billion dollars last quarter, and Amazon paid $3.9 billion to buy One Medical, a primary care company.
Amazon is betting it can make primary care "work", yet one of the best healthcare systems hasn't been able to translate excellent primary care into lower costs.
Reality is, in the US primary care is (mostly) a money-loser.
One Medical, Amazon's new purchase, has consistently lost money – a lot of money. That's because reimbursement for primary care remains pretty low – despite Medicare's move to increase pay.
We spend twice as much on healthcare as other developed countries, yet our outcomes, well…suck. One driver is likely access to primary care:
High income countries spend 2 to 3 times more on primary care services than we do; United States as a proportion of their (14% of total health care expenditures vs. the US' 5% to 8%)
In those other countries primary care providers (PCPs) account for a substantially higher proportion of all practicing physicians; almost half of French physicians and a quarter of docs in the UK are PCPs compared to just one out of 8 in the United States.
that last data point may be due to pay; family practice docs make less than half what orthopedic docs do.
Good primary care saves big bucks by reducing the need for specialty care – an economic impact that isn't reflected in primary care reimbursement in the US. At least not in most reimbursement schemes; risk-taking, ACOs, risk share, and other variations are among the models that attempt to reward PCPs for effectively managing patient health.
Amazon's move to buy One Medical comes on the heels of lots of other investments in primary care; what's notable is how few have resulted in profits.
Can Amazon "fix" primary care?
Well, they'll  have to be a lot better than Kaiser Permanente.
KP is one of – if not the best – health care systems in the world, with excellent primary care and provider compensation that better reflects the value of primary care.
Yet KP lost over a billion dollars last quarter – and over $2 billion for the first half of 2022. Yes, a big chunk of the Q2 loss was due to investments, and there are extraneous factors – COVID-related mostly; Kaiser also has to pay orthopedic surgeons and other specialists a lot (increasing KP's overall cost of care) because those docs could make much more outside KP.
Still, when one considers that Kaiser Permanente's operating margins are generally pretty thin and certainly KP is less profitable than other health plans (UnitedHealth Group's Q2 profits were up 19%) it shows just how difficult it is to make primary care "pay."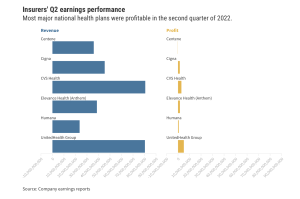 What does this mean for you?
Pay more for primary care.