I've been thinking long and hard about why our health insurance and healthcare systems are such a clustermess. Hugely costly, lamentable outcomes, a morass of bureaucracy, red tape and stupid rules enriching a few and impoverishing many.
So, I think I have a solution – and it involves workers' comp.
First, the problem.
Today I'm reprising a post from a couple years back – if anything it is more accurate today than it was way back then.
If you had "government" health insurance for the last decade, your costs would be 20 – 25% lower today.
That's because private insurers have not controlled spending nearly as well as Medicare and Medicaid have.  This from KFN via Axios.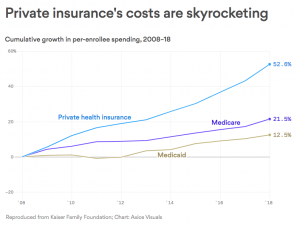 Doesn't matter what your economic or political ideology is – that's a fact.
You and your insurance company pay your doctors and hospital more than twice what Medicare does. Yes, the Feds can exert pricing power – but why can't United Healthcare, or Aetna, or Blue Cross?
Those healthcare giants should be able to negotiate better deals with providers; they have massive buying power and millions of members to leverage. They should be able to use that power to give you lower insurance costs – but they can't.
Those private insurers are (theoretically) more nimble, smarter, better run, and more efficient than the government. And they have hundreds of billions of healthcare dollars to leverage.
Yet they've failed to outperform a bunch of bureaucrats.
I won't dive into the "whys" today, because that would take away from the over-arching truth – government has been much more effective than private insurers.
What does this mean for you?
Cutting your health insurance costs by a quarter = more dollars you could have spent on other stuff.
note – happy to hear other thoughts; please use citations to back up any assertions.