Basics here folks…
Facility costs soak up 2 out of every 5 dollars of work comp medical spend.
"Physician" costs take up another 2 bucks…however that is misleading.
In NCCI-speak, "physician" is a catch-all for most practitioners…MDs, DOs, PTs, chiropractors, PAs…and, the "physician" fee schedule in most states doesn't apply to things like physical medicine (PM).
Historically PM accounts for right around one of every 6 work comp medical dollars (yes that is a very solid number based on a ton of work I've done), although like everything in work comp it varies somewhat by state.
Then there's drugs, dx imaging, DME, etc.
Drugs account for less than 10% of spend, a figure that has been declining for years thanks to much better clinical management of pharmacy  – mostly by PBMs – more generic usage, a massive decrease in overuse of opioids, fewer new brand drugs used for MSK injuries, and declining fee schedules.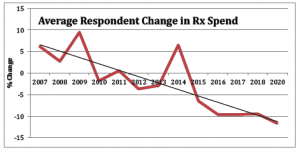 Risk and Insurance's Annemarie Mannion penned an excellent explanation of how Medicare reimbursement affects work comp fee schedules.  Read her piece and save it in your reference files…you will need it in the future.
Finally, network penetration does have some effect on prices paid…although that impact has declined over the last few years as providers have figured out that when it comes to negotiating with health systems, workers' comp is pretty much clueless.  Here's a synopsis of network impact from a post a couple years back.