Of late there's been "confusion" in several quarters about the impact of provider networks/PPOs/specialty networks on access to care and outcomes.
These uninformed or willfully ignorant folks claim all manner of bad stuff is due to workers' comp provider networks – without an iota of evidence to support those assertions.
Let's pick on the Golden State…
Let's be clear…actual research shows:
there is NO significant difference in access to care for patients treated within or outside a Medical Provider Network.
This from CWCI's report…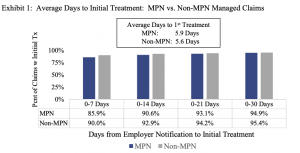 Similarly, there was no significant difference in distance from the patient to provider between MPN and non-MPN patients.
Quoting CWCI…
The latest proximity to care findings also track with results of CWCI's April 2021 research which found that 99 percent of claims in which treatment was rendered by an MPN provider, and 98 percent of non-MPN claims met the state's access standards.
What does this mean for you?
Do NOT give any credence to statements similar to: "of course, paying providers less than fee schedule affects access to care" UNLESS they are backed up by real research and not built on a pile of unfounded and unsupported assumptions.