At some point we'll have some version of "single payer" healthcare – I predict this will happen within a decade (yes, I know I'm usually wrong on the timing of my predictions, but I'm mostly right on the result).
Whether you're a rabid libertarian or a totally committed Democratic Socialist, you'll need to know what Single Payer is.
Single Payer is a catch-all term for universal health insurance coverage. In some cases there isn't a "single payer" in an entire nation – our neighbor to the north being one example, Switzerland and Germany are two others. In Canada, each Province is it's own single payer; in the two European countries there are a variety of independent companies that provide health coverage.
That's how the insurance end of things works. Healthcare providers; hospitals, physicians, therapists are the other side.
The UK may be the best-known example of a "true" single payer system; the government runs the health insurance program and employs most of the healthcare providers.
Between the UK system on one end of the spectrum, and the US "system" on the other, there are a lot of variations.
Here are three examples (borrowed from Dr Lynn Blewett of the University of Minnesota):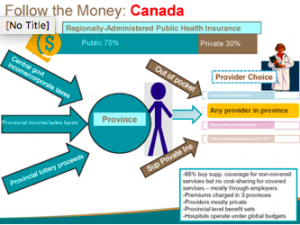 In Canada, there are some variations among provinces in terms of financing and benefits, but these are pretty minor. People can freely choose their providers, there are no deductibles or other cost-sharing provisions, providers are private (not employed by the government), and hospitals operate under a universal budget.
Funding comes from taxes and provincial lottery profits, and about 2/3rds of Canadians buy supplemental private insurance for non-covered services.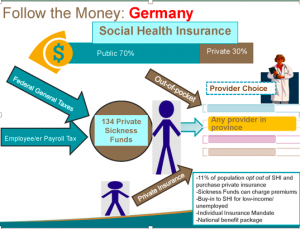 Germany funds its system via general taxes and payroll taxes. There are over a hundred "sickness funds" which are generally equivalent to our health insurers; some charge additional premiums. About a tenth of the population opts out of the national system and buys private insurance coverage. Patients have full choice of the providers they use.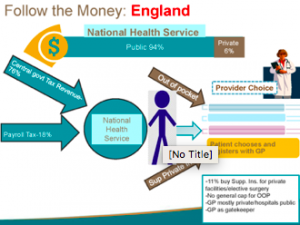 The UK is often held up as the only "pure" single payer system as both providers and the payer are government-based. Funding is via payroll and general taxes. Choice of primary care provider is up to the patient, however PCPs act as gatekeepers to specialty care. Similar to Germany, about a tenth of the population buys supplemental coverage.
California is likely to consider Single Payer after the Democratic candidate for Governor wins the election this fall.  Advocates have described their vision for a state-based "single payer" system this way.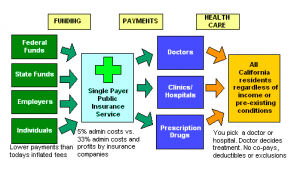 While every system has it's problems, what is notable is they all deliver better outcomes at significantly lower cost than we have here in the US.
So, when you hear people decrying the ACA, "Obamacare", or single payer, ask yourself how their "solution" would lower your costs while improving the healthcare you get.
Better yet, ask them…But be prepared for silence.
What does this mean for you?
This will be one of the two most important issues facing us over the next decade. Inform yourself.