Is Not Good.
that's the primary takeaway from Bogdan Savych PhD's presentation at WCRI's annual conference– and a lot of other work I've done on the topic.
Consolidation eliminates competition – although I'd posit there's little true competition in health care services. [I've written a LOT about  consolidation and the impact thereof]
There's solid evidence that consolidation actually leads to increased prices and some research indicating it leads to decreased quality.
So how has healthcare evolved – well, primary care docs shifted from mostly solo practice to employment by health systems or group practices. Note this data is from 2018; consolidation has accelerated since then.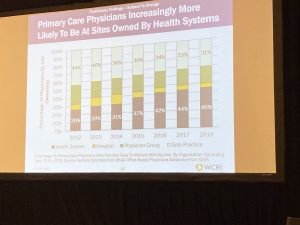 Of course, like everything else in healthcare, it's local…orthopedic practices in Wisconsin are much more likely to be owned by health systems than those in Delaware.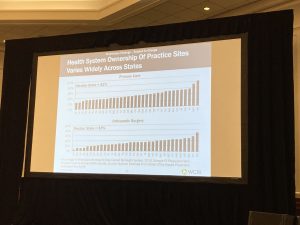 Dr Savych's research hit on a critical issue – exactly how many workers' comp patients do primary care docs see? – the answer is most see almost none – with just one out of every ten physicians seeing more than 10 WC patients per year. Of course orthos see more – but still not many; only about a third see more than 10 claimants per year.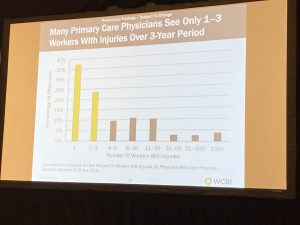 There are a whole host of issues with this which we'll get into in a future post. For now, the net is researchers have to identify the specific physician responsible for the care of and outcomes for specific patients – which is fiendishly difficult especially when that physician moves from a group practice to employment by a health system. Provider identification is the main challenge – but by no means the only one.
Case mix adjusting – the art of comparing patients with similar diagnoses (often primary, secondary, and tertiary) over time – is as or almost as hard to get consistently right.
All that said, Dr Savych noted that cost increases are due more to a shift in the volume and type of procedures than higher prices for individual services.
The initial takeaway (there's a LOT more research and analysis to do) is vertical integration (physician practices absorbed but health systems) leads to docs providing more expensive services.
What does this mean for you?
Consolidation raises work comp medical costs.
The best way to think about this is on a state-specific basis; understand where there's more consolidation and watch the type of services delivered to your patients like a hawk.