It's that time of year…when the brilliant minds at WCRI release the latest CompScope report.
The top finding…is likely to surprise many…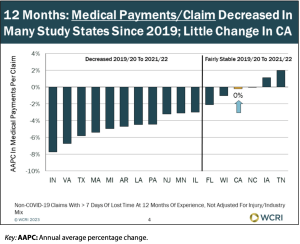 Couple observations:
yes, this was during COVID….medical costs during COVID were LOWER, not higher than previous in previous years. Those who understand medical care delivery anticipated this, alas that is a very small group.
no, medical costs in comp are NOT increasing significantly. Haven't been for years.
That's because we're still benefiting from the opioid hangover effect.
Warning – Medicaid disenrollment aka "screw the poor folks" will push facilities and healthcare systems in many states to look for revenue replacements.
And, because work comp is pathetically awful at controlling facility costs, we can expect facility costs to increase – which will increase medical costs.
You can register for WCRI's  webinar highlighting findings from this year's report here….tune in November 16, 2023 @ 2 pm eastern.
What does this mean for you?
It is long past time to start preparing for higher medical spend.